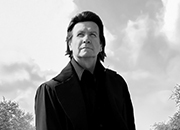 The Ultimate Johnny Cash Tribute – Starring Terry Goffee
Rescheduled from 05/05/2020 and 9/15/20.
All guests and groups with existing reservations will be contacted directly. If you have a reservation, you will be given the option to transfer your reservation and payment to the rescheduled dates or cancel and receive a full refund.
Terry Lee's Tribute to Johnny Cash has taken him all across the U S, Canada, Ireland and the UK. In 2009 he was selected to provide the moves for the Johnny Cash character in Guitar Hero 5. And now he's a regular on RFD-TV too!!! He looks like Johnny. He sounds like Johnny. He moves like Johnny. Nobody does Johnny Cash like Terry Lee Goffee. Among the 34 songs included in the tribute are such Cash classics as: "A Boy Named Sue", "Sunday Morning Coming Down", "I Walk The Line", "Ring Of Fire", "Folsom Prison Blues" and "Hurt".