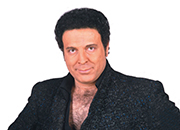 The World's #1 Tom Jones Tribute by Harmik
Rescheduled from 09/29/20.
All guests and groups with existing reservations will be contacted directly. If you have a reservation, you will be given the option to transfer your reservation and payment to the rescheduled dates or cancel and receive a full refund.
Harmik is internationally recognized and praised as the world's #1 look and sound alike of the legendary, singing icon - Sir Tom Jones. So much that Harmik was cast to be Tom Jones' perfect clone in the music video "Tom Jones international" with the real Tom Jones.
Standing at a statuesque six feet tall and weighing 180lbs, Harmik possesses the quintessential look, sound and image instantly recognized as Tom Jones.