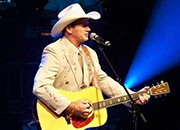 Tribute to Hank Williams SR. by David Church
Rescheduled from 10/08/20.
All guests and groups with existing reservations will be contacted directly. If you have a reservation, you will be given the option to transfer your reservation and payment to the rescheduled dates or cancel and receive a full refund.
You may recognize David Church as a regular on RFD-TV's popular show "Midwest Country" where he was featured for the past 10 years! Known throughout the world as the #1 Hank Williams Tribute artist, Church is making a huge connection to fans who are starving for the traditional sound of "Retro Country" music. In addition to singing classics, Church is also known for his original songs such as "I Don't Live In Lonely Anymore" which rose to #20 on the national charts.