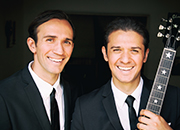 The Everly Brothers Experience featuring The Zmed Brothers
Rescheduled from 10/27/20.
All guests and groups with existing reservations will be contacted directly. If you have a reservation, you will be given the option to transfer your reservation and payment to the rescheduled dates or cancel and receive a full refund.
In January of 2016, brothers Zachary and Dylan Zmed began developing The Everly Brothers Experience show. Since then they have celebrated the pivotal sounds of The Everly Brothers music with enthusiastic crowds all across the US and overseas in iconic clubs, theaters, performing arts centers, casinos, ballrooms, and coliseums. The Zmeds say, "Our aim is to honor the aesthetics of their iconic sound and honor their unique place in music history all while telling our own personal story," and they do just that.